Welcome to the Town of New Baltimore!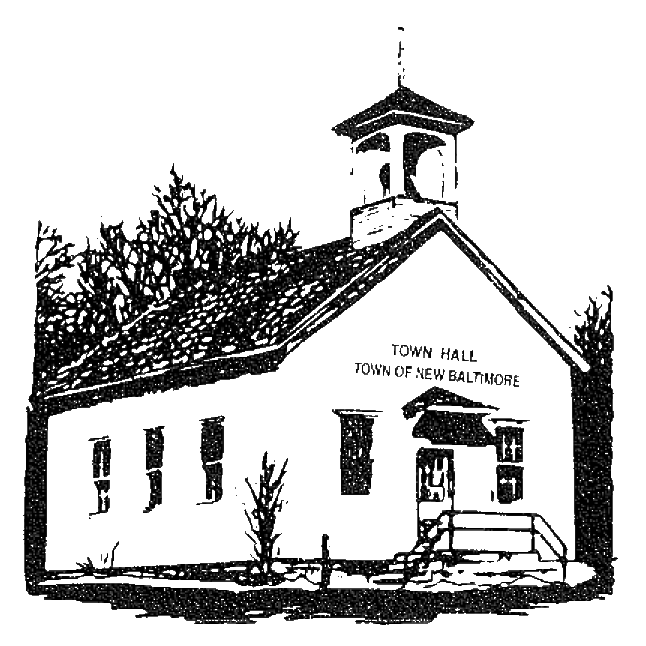 The Town Hall is located on County Route 51, approximately 1 mile west of Route 9W. The Town Clerk's Office is located at the Town Hall. Certified copies of birth/death certificates, copies of zoning laws and ordinances, hunting and fishing licenses, and dog licenses are available at the Clerk's Office.
The Town Board holds its regular monthly meeting on the 2nd Monday and a work session on the 4th Monday. These meetings begin at 7:00 pm, are held at the Town Hall, and are open to the public.
The Planning Board meets on the second Thursday of the month.
Town Offices
3809 County Route 51
Hannacroix, NY 12087
Phone: (518) 756-6671
Ext. 2: Tax Collector: Diane Jordan
Ext. 5: Town Clerk: Barb Finke, Deputy Town Clerks: Marjorie Loux & Amanda Eldred
Ext. 6: Zoning/Planning/Building: Allan Jourdin & Marjorie Loux
Ext. 7: Town Supervisor: Jeff Ruso
Ext. 8: Assessor: Dawn DeRose, Assessor Clerk: Sandra Trombley
Fax: (518) 756-8880
Highway Superintendent
AlanVanWormer
Phone: (518) 756-2078
Fax: (518) 756-3078
Town Court
Phone: (518) 756-2079
Justices Huff and Melewski
Court Clerk:Lynne Layman-Wallace
Greene County Sheriff
Phone: (518) 756-3300
Town of New Baltimore News
Special Meeting Notice
The Town of New Baltimore will hold a Special Meeting on Monday, December 6, 2021 at 7PM at Town Hall, 3809 County Route 51, Hannacroix NY 12087 to address a recommendation by the Sole Assessor to enter into an agreement with a consultant to analyze the 2022 trend by the Office of Real Property Tax Services and report their findings as well as any other business to come before the Board. pdf Special Meeting Notice (36 KB)
Town Justice Position
The Town of New Baltimore is seeking interested persons for Town Justice position.
pdf Town Justince Position Ad (54 KB)
Notice Of Public Meeting 12-13-2021
The Town of New Baltimore will be holding a Public Meeting at the Monday, December 13th Regular Town Board Meeting. This meeting is to obtain the Town residents' input regarding cannabis retail dispensaries in the Town of New Baltimore. The meeting will start at 6:30PM at Town Hall.
pdf Public Hearing Notice (50 KB)
Seeking Applicants for Planning Board & Zoning Board of Appeals Members
pdf Planning Board & ZBA Ad (28 KB)
Seeking Applications for Part-Time Court Clerk
January 2018
February 2018
March 2018
April 2018
May 2018
June 2018
July 2018
August 2018
September 2018
October 2018
November 2018
December 2018