Welcome to the Town of New Baltimore!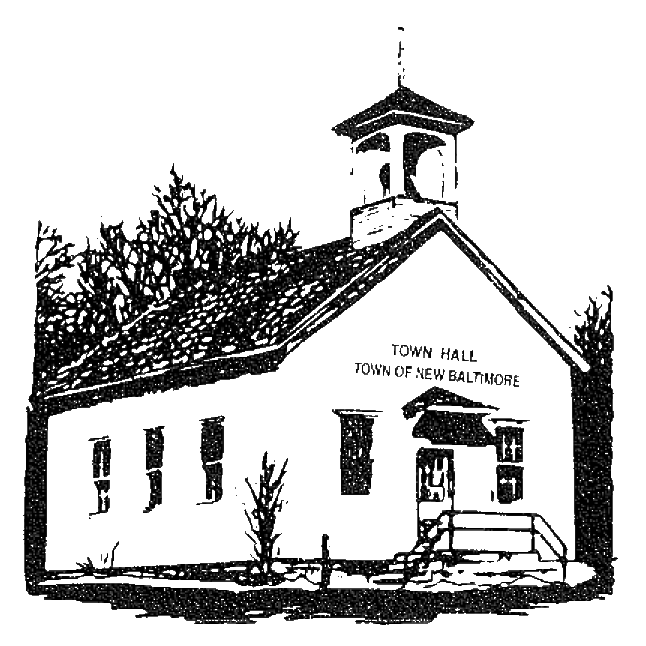 The Town Hall is located on County Route 51, approximately 1 mile west of Route 9W. The Town Clerk's Office is located at the Town Hall. Certified copies of birth/death certificates, copies of zoning laws and ordinances, hunting and fishing licenses, and dog licenses are available at the Clerk's Office.
The Town Board holds its regular monthly meeting on the 2nd Monday and a work session on the 4th Monday. These meetings begin at 7:00 pm, are held at the Town Hall, and are open to the public.
The Planning Board meets on the second Thursday of the month.
Town Offices
3809 County Route 51
Hannacroix, NY 12087
Phone: (518) 756-6671
Ext. 2: Tax Office
Ext. 5: Town Clerk: Barbara Finke
Deputy Town Clerks: Marjorie Loux, Amanda Eldred, & Sandra Trombley
Ext. 6: Zoning/Planning/Building: Allan Jourdin & Marjorie Loux
Ext. 7: Town Supervisor: Jeff Ruso
Ext. 8: Assessor: Dawn DeRose, Assessor Clerk: Sandra Trombley
Fax: (518) 756-8880
Highway Superintendent
Alan VanWormer
Phone: (518) 756-2078
Fax: (518) 756-3078
Town Court
Phone: (518) 756-2079
Justice Huff
Justice Konsul
Court Clerk: Lynne Layman-Wallace & Asia Izizarry
Greene County Sheriff
Phone: (518) 756-3300
Town of New Baltimore News
2022 Newsletter Vol. 1
pdf Town of New Baltimore 2022 Newsletter Volume 1 (1.86 MB)
June Town Board Regular Meeting Rescheduled
Town Board Regular Meeting on Monday, June 13th, has beed rescheduled to Wednesday, June 15th. The meeting will start at 7PM at the Town Hall, 3809 County Route 51 Hannacroix, NY.
Town and County Tax Bills Are Now Online!
The Town Clerk's Office is proud to announce Town and County Tax Bills are now online. With the support of the Town Board, Jeff Ruso, Nick Dellisanti, Bill Boehlke, Kelly Downes, Chuck Irving, and Shelly VanEtten, we have taken steps to further assist our residents. We are now one of ten Greene County municipalities to offer the Town and County Tax bills online. Please visit https://egov.basgov.com/townofnewbaltimore to search for tax bills dating back to 2017.
New Baltimore Summer Recreation Program
Director, Assistant Director/Counselor positions are available for our annual recreation program from July 11-August 5, 2022 from 8:30 AM-12 Noon Monday-Friday. The Director will need to fundraise, plan and manage the program with an Assistant Director/Counselors. Please send cover letter/resume for Director/Assistant Director and applications for Counselors are available at www.townofnewbaltimore.org under "Parks" or at Town Hall and can be submitted to Councilwoman Shelly VanEtten, 3809 CR 51, Hannacroix, NY 12087.
2022 Rabies Clinic Schedule
pdf Greene County's 2022 Rabies Clinic (98 KB) will be hosted at Angelo Canna Town Park, Joseph D Spencer Lane, Cairo, NY
On the following dates:
May 18, 2022 5:00pm-7:00pm
June 15, 2022 5:00pm-7:00pm
August 17, 2022 5:00pm-7:00pm
September 14, 2022 5:00pm-7:00pm
This is Drive-Up Only. Please call 518-719-3600 to Pre-Register.
January 2018
February 2018
March 2018
April 2018
May 2018
June 2018
July 2018
August 2018
September 2018
October 2018
November 2018
December 2018