pdf Pavilion Rental Information and Reservation Form (407 KB)
2022 Summer Recreation Program Participant Registration Form
Summer Recreation Program Medical Release Form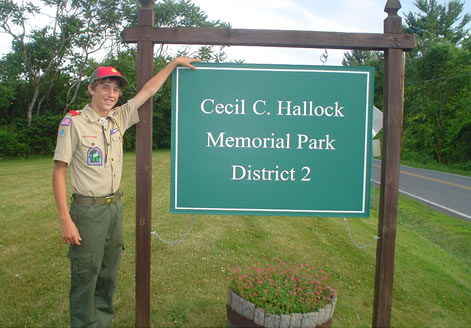 Zeb Girvin stands next to the new District 2 New Baltimore Town Park sign that he made for his Community Service Project needed to achieve the rank of Star Scout.
View Slide Show of 2008 Summer Program
Silver Lake Park
Located on Old Kings Road in Medway, Silver Lake Park offers a large pavilion, and baseball field.
Cecil C. Hallock Memorial Park
Located on Route 54 just west of the Town Hall, Hallock Park offers a large pavilion, electric, water, and playground.
Cornell Park
Located on the Hudson River in the Historical Hamlet of New Baltimore, Cornell Park is a popular gathering spot in the Town. Offers a gazebo, electric, and kayak/canoe launch.
Wyche Park
Located on New Baltimore Road in the Hamlet of New Baltimore, Wyche Park offers a large pavilion, electric, and playground.
For information on renting the Park facilities, please contact the Town Clerk's Office at (518)756-6671, Ext. 5 for availability and other information.
New Baltimore Pavilion Rental Information
Cecil C. Hallock Memorial Park has water and electric, Silver Lake Park has electric, and are available to town residents for use for family reunions, birthday parties or other social gatherings.
To reserve and rent a Town pavilion, please submit a Park Rental Form (below) to the Town Clerk for the date and park desired. A rental fee of $25.00 for town residents and $50.00 for non-residents is required, plus a $25 refundable deposit that is returned following cleanup. Charitable organizations can apply for waiver of this fee, in writing, Please address your request to the Town Board.
pdf Pavilion Rental Information and Reservation Form (407 KB)
The New Baltimore Summer Youth Program
The New Baltimore Summer Youth Program is an annual favorite for New Baltimore's children with many fun activities (see recent Youth Program Schedule of Events below). Children must be 5 years of age or older. Locations of the program can vary from park to park each year. Program hours are 9:00 a.m. to 11:30 p.m.
Every Spring, usually in May, in preparation for the Summer Youth Program, the Town announces job openings for high school students who live in our town to work as park counselors for the 4-week summer program. Watch this website for more information or write or call our Parks Director, Desirea Chamberlin, c/o the Town Clerk.
Download PDF files
Summer Recreation Participant Registration Form 2022
Archive:
2006 Picture Slide Show