Welcome to the Town of New Baltimore!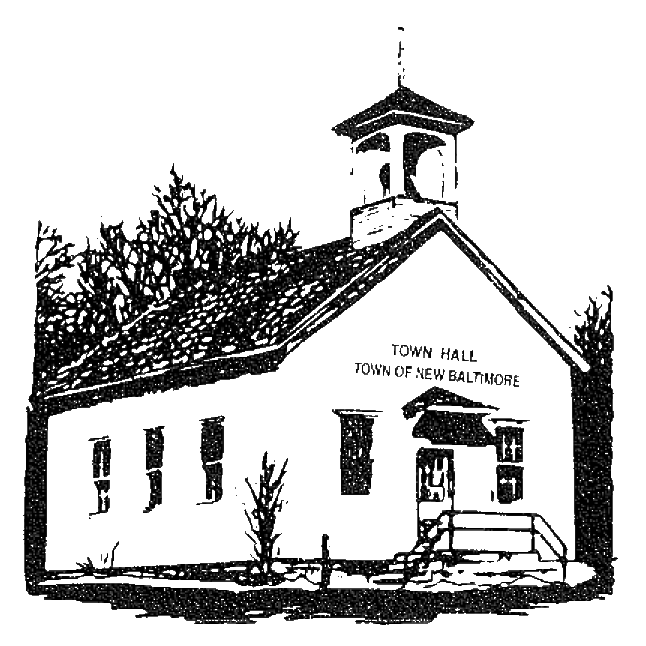 The Town Hall is located on County Route 51, approximately 1 mile west of Route 9W. The Town Clerk's Office is located at the Town Hall. Certified copies of birth/death certificates, copies of zoning laws and ordinances, hunting and fishing licenses, and dog licenses are available at the Clerk's Office.
The Town Board holds its regular monthly meeting on the 2nd Monday and a work session on the 4th Monday. These meetings begin at 7:00 pm, are held at the Town Hall, and are open to the public.
The Planning Board meets on the second Thursday of the month.
Town Offices
3809 County Route 51
Hannacroix, NY 12087
Phone: (518) 756-6671
Ext. 2: Tax Office
Ext. 4: Town Court
Ext. 5: Town Clerk: Barbara Finke
Deputy Town Clerks: Marjorie Loux, Amanda Eldred, & Sandra Trombley
Ext. 6: Zoning/Planning/Building: Allan Jourdin & Marjorie Loux
Ext. 7: Town Supervisor: Jeff Ruso
Ext. 8: Assessor: Dawn DeRose, Assessor Clerk: Sandra Trombley
Fax: (518) 756-8880
Highway Superintendent
Alan VanWormer
Phone: (518) 756-2078
Fax: (518) 756-3078
Town Court
Phone: (518) 756-2079
Justice Huff
Justice Konsul
Court Clerk: Lynne Layman-Wallace & Asia Irizarry-Decker
Greene County Sheriff
Phone: (518) 756-3300
Dog Control Officer
Sherry Vieta
Phone: (518) 322-9783
Town of New Baltimore News
Notice of Public Hearing
The Town of New Baltimore will hold a Public Hearing on December 11, 2023 at 6:45 PM at the Town Hall, 3809 County Route 51, Hannacroix, New York to hear those members of the public who wish to be heard regarding proposed Local Law 5 of 2023, a Local Law to establish a new schedule of real property tax exemptions for persons sixty-five (65) years of age or over and persons with disabilities and limited incomes.
MEDWAY GRAPEVILLE FIRE DISTRICT 421 ELECTION NOTICE
TOWN OF NEW BALTIMORE
MEDWAY GRAPEVILLE FIRE DISTRICT 421
ELECTION NOTICE
Notice is hereby given that the ANNUAL ELECTION OF THE MEDWAY GRAPEVILLE FIRE DISTRICT will be held on TUESDAY, DECEMBER 12, 2023, between the hours of 6:00 PM and 9:00 PM at the Firehouse located at 1352 CR 51, Hannacroix, NY 12087. The purpose is to elect two(2) Fire District Commissioner(s) for a term of five(5) years commencing January 1, 2024. All duly registered residents of the Medway Grapeville Fire District shall be eligible to vote in the election.
Carol J. McBride
Acting Secretary
New Baltimore Fire District Annual Elections
Legal Notice
Annual Elections

NOTICE is hereby given that pursuant to Section 175 of the Town Law, the annual election of the qualified voters of the New Baltimore Fire District will be held at the fire house, located on Gill Road, on Tuesday, the12th day of December 2023, between the hours of 6:00 pm and 9:00 pm for the purpose of the following: A COMMISSIONER for a full term of FIVE (5) years, to succeed Bertrand Poland, whose term will expire on December 31, 2023.

Pursuant to a resolution adopted by the Board of fire Commissioners on October 31, 1967, nominating petitions for the above office must be filled with the District Secretary at least TEN (10) days prior to this election and shall be subscribed by at least TWENTY-FIVE (25) qualified voters of the District.

Lisa Johnston, Secretary
Board of Fire Commissioners
Winter Parking and Snow Plowing Notice
There will be no parking on any town roads, streets, or shoulders beginning November 15, 2022 and continuing until May 15, 2023 to allow for the safe and efficient removal of snow. The Highway Superintendent is authorized by law to have any vehicle in violation of this notice removed at the owners expense. It is also illegal to plow, blow, or otherwise deposit snow from private driveways onto, into, or across a public road, please refrain from doing this. Please let's work together to keep our roads clear and safe this winter. Thank You. Alan VanWormer, Highway Superintendent
Community Choice Aggregation (CCA) Program
In September of last year, the Town of New Baltimore renewed their Community Choice Aggregation (CCA) program locking in rates for residents and small businesses for the next two years starting in December of 2022.
Central Hudson electricity supply rates fluctuate every month and had spiked several times last year. The Town wanted to ensure that residents and small businesses had a more stable fix price option.
Although the Town's Community rate increased from last year. It is still lower than the historical Central Hudson rates. Residents and small businesses were automatically enrolled in the program and had 30 days to opt-out in November.
However, if a resident chose to opt out from the program in the past, they would not be enrolled in the CCA program renewal. Newly eligible residents recently received letters from Central Hudson explaining they were enrolled in the program.
For more information about the Town's CCA program and the rates go to www.greenecountycommunityenergy.com/new-baltimore