Welcome to the Town of New Baltimore!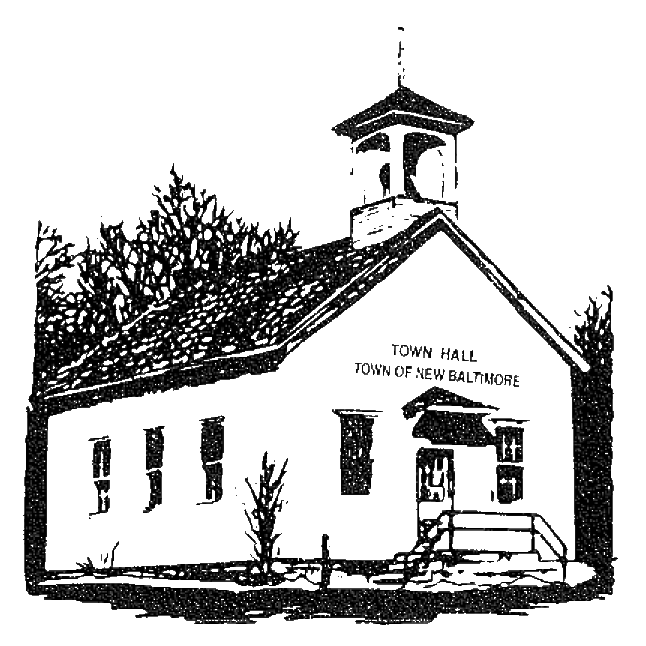 The Town Hall is located on County Route 51, approximately 1 mile west of Route 9W. The Town Clerk's Office is located at the Town Hall. Certified copies of birth/death certificates, copies of zoning laws and ordinances, hunting and fishing licenses, and dog licenses are available at the Clerk's Office.
The Town Board holds its regular monthly meeting on the 2nd Monday and a work session on the 4th Monday. These meetings begin at 7:00 pm, are held at the Town Hall, and are open to the public.
The Planning Board meets on the second Thursday of the month.
Town Offices
3809 County Route 51
Hannacroix, NY 12087
Phone: (518) 756-6671
Ext. 2: Tax Office
Ext. 4: Town Court
Ext. 5: Town Clerk: Barbara Finke
Deputy Town Clerks: Marjorie Loux, Amanda Eldred, & Sandra Trombley
Ext. 6: Zoning/Planning/Building: Allan Jourdin & Marjorie Loux
Ext. 7: Town Supervisor: Jeff Ruso
Ext. 8: Assessor: Dawn DeRose, Assessor Clerk: Sandra Trombley
Fax: (518) 756-8880
Highway Superintendent
Alan VanWormer
Phone: (518) 756-2078
Fax: (518) 756-3078
Town Court
Phone: (518) 756-2079
Justice Huff
Justice Konsul
Court Clerk: Lynne Layman-Wallace & Asia Irizarry
Greene County Sheriff
Phone: (518) 756-3300
Town of New Baltimore News
NOTICE OF SPECIAL ELECTION
MEDWAY-GRAPEVILLE FIRE DISTRICT
IN THE TOWN OF NEW BALTIMORE,
GREENE COUNTY, NEW YORK
NOTICE IS HEREBY GIVEN pursuant to the Town Law of the State of New York that a special election of the qualified voters of the Medway-Grapeville Fire District in the Town of New Baltimore, Greene County, New York will be held at the Medway-Grapeville Firehouse located at 1352 County Route 51, Hannacroix, New York 12087 in the Town of New Baltimore, New York on August 30, 2022, between the hours of 6:00 o'clock p.m. and 9:00 o'clock p.m. to vote on the Bond Resolution of the Board of Fire Commissioners adopted July 15, 2022.
Help Wanted: Part Time Laborer
The Town of New Baltimore is seeking applicants for a Part-Time Laborer for repairs and maintenance which may include painting, cleaning, and other duties as needed. Please send letter of interest to Supervisor Jeff Ruso, 3809 County Route 51, Hannacroix, NY 12087 for information. pdf Halp Wanted Ad (25 KB)
New Baltimore's 19th Annual Townwide Yard Sale
Saturday, September 17, 2022 is New Baltimore's townwide yard sale. To be noted on the map please fill out the pdf TONB Yard Sale Application (129 KB) and submit it to the Town Clerk's office.
Town of New Baltimore's 2022 Final Assessment Roll
Town of New Baltimore's Final Assessment Roll for 2022 is now available. pdf TONB Final Roll (2.68 MB) and pdf Certificate (25 KB)
2022 Rabies Clinic Schedule
pdf Greene County's 2022 Rabies Clinic (98 KB) will be hosted at Angelo Canna Town Park, Joseph D Spencer Lane, Cairo, NY
On the following dates:
May 18, 2022 5:00pm-7:00pm
June 15, 2022 5:00pm-7:00pm
August 17, 2022 5:00pm-7:00pm
September 14, 2022 5:00pm-7:00pm
This is Drive-Up Only. Please call 518-719-3600 to Pre-Register.