Welcome to the Town of New Baltimore!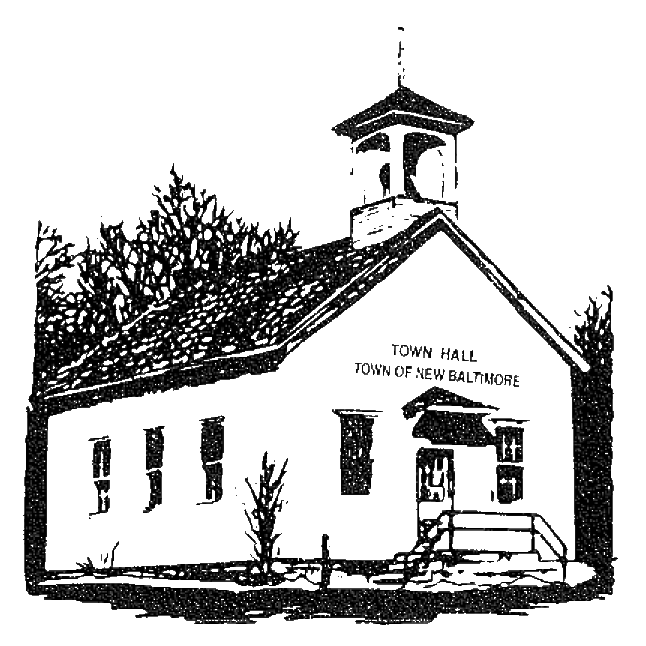 The Town Hall is located on County Route 51, approximately 1 mile west of Route 9W. The Town Clerk's Office is located at the Town Hall. Certified copies of birth/death certificates, copies of zoning laws and ordinances, hunting and fishing licenses, and dog licenses are available at the Clerk's Office.
The Town Board holds its regular monthly meeting on the 2nd Monday and a work session on the 4th Monday. These meetings begin at 7:00 pm, are held at the Town Hall, and are open to the public.
The Planning Board meets on the second Thursday of the month.
Town Offices
3809 County Route 51
Hannacroix, NY 12087
Phone: (518) 756-6671
Ext. 2: Tax Collector, Diane Jordan
Ext. 5: Town Clerk, Barb Finke
Ext. 6: Zoning/Planning/Building, Allan Jourdin & Marjorie Loux
Ext. 7: Town Supervisor, Jeff Ruso
Ext. 8: Assessor, Justin Maxwell
Fax: (518) 756-8880
Highway Superintendent
Phone: (518) 756-2078
Fax: (518) 756-3078
Town Court
Phone: 518.756.2079
Justices Huff and Melewski, Kimberly Ruby/Lynne Layman-Wallace
Greene County Sheriff
Phone: (518) 756-3300
Town of New Baltimore News
Town Meetings
All Town Meetings are Open to the Public. Town Board Regular and Work Meetings are held on the Second and Fourth Mondays of the Month at 7 PM; Zoning Board of Appeals Meetings are the First Wednesday of the Month at 7:30 PM when needed; Planning Board Meetings are the Second Thursday of the Month at 7 PM; and Other Town Meetings are listed on the Community Calendar on the Town Website at www.townofnewbaltimore.org. To access the Community Calendar on the website, click on Community and then Calendar of Events.
Energy Savings & Stability with Renewable Energy Option
We are pleased to announce the launch of the Town of New Baltimore Community Choice Aggregation Program for residents and businesses beginning in July 2019 through January 2021. The primary goals of the program are to provide annual savings and rate stability for participating consumers. The program will also offer participants an exciting renewable energy option. More information can be obtained at https://greenecountycommunityenergy.com
Community Choice Aggregation Frequently Asked Questions
Update on STAR Program Changes https://www.tax.ny.gov/star/default.htmLegal Leg
EZPass Tags
The Town Clerk's Office has EZPass Tags available for $25 each which is credited to an account when it is created.